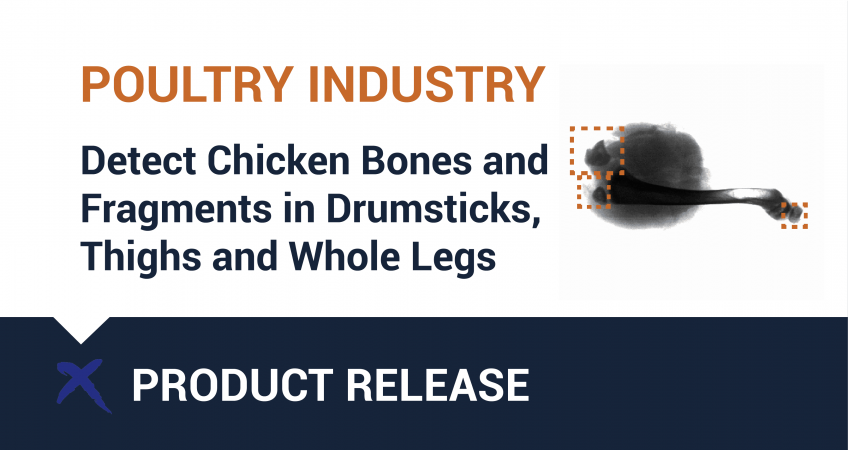 The Power of X-rays: Detect Chicken Bones & Fragments in Chicken Drumsticks, Thighs and Whole Legs
The rise in popularity of dark poultry meat requires solutions for securing product quality.  Customer affinity for convenience and easy to consume products have motivated chicken processors to adapt and produce deboned options for chicken drumsticks, thighs & whole legs,  and find solutions that will improve product yields during and after the deboning process. We will walk you trough how to detect chicken bones and eliminate bone fragments and splinters resulted from the manual or automatic deboning process.
WHY IS CHICKEN LEGS MEAT DARKER COLOR THAN CHICKEN BREAST MEAT?
The highly popular chicken breast meat has a light color, as opposed to chicken legs meat products that are slightly darker, reason why they are also called dark poultry meat. The dark color is given by a component called myoglobin. This small oxygen-binding protein is found in muscle cells. It stores oxygen and facilitates oxygen diffusion in muscles. Since chicken don't fly, their chest muscles are not highly stimulated and consequently there will be less myoglobin present in those muscles, which lightens the color of the meat. On the other hand, chicken legs muscles are actively and frequently engaged by chicken, this generating more myoglobin and more color in the meat.
Regardless of the myoglobin level in the muscles and the color of the poultry meat, it has been scientifically proven that there are no differences in the nutritional value of chicken breast meat, as opposed to chicken legs meat. A difference that is well known, however, is that form the consumer perspective and for cooking purposes, chicken legs meat does not dry out as fast as chicken breast meat, and it is more succulent, being more suitable and preferred for certain food recipes.
CHICKEN LEGS DEBONING PROCESS: MANUAL VS AUTOMATIC
Along with the rise in popularity of the chicken legs meat, the need for boneless chicken meat products is also increasing. Compared to deboned chicken breast meat, the deboning process of chicken drumsticks, things and whole legs is much more complex, and depending on the selected method, the quality, aesthetic aspect and product yields will vary.
Manual deboning processes are highly dependant on the skills of the worker in charge for deboning, and this aspect brings further considerations to keep in mind. Manually deboning chicken legs is a difficult and tedious process, with a duration estimated to 6 to 15 thighs per minute, and the process varies depending on the type of product. All these aspects will highly influence the yields being obtained.
Automated deboning can improve efficiency in the sense that it is faster to debone more chicken leg products in less time, but this method also has downsides. Given the higher processing speed, the risk for bone breakage increases. If bones break during the automated deboning process, the risk for contamination with bone splinters, knucleks and other bone fragments increases. This will automatically require more rework of the products, repeated trimming, which increases the risk of ending up with less products, less aesthetically appealing products, and ultimately – yield loss.
Regardless of the selected deboning method, it is impossible to avoid errors in the processing flow. Since the risk of bone breakage is higher for chicken legs meat processing, it is crucial to have quality inspection methods implemented in the processing line, and for this type of tasks, an X-ray system is highly superior. Innospexion has specialized in X-ray bone detection systems during the past 12 years. The chicken bone detection system is a variety of the "HYMCIS" products, which have been on the market since 2006. The technology has received innovation awards due to the high quality X-ray images acquired and analyzed in real time. It automatically detects and rejects bones down to less than 2 x 2 x 2 mm, sometimes even softbone. The InnospeXion systems are available as single lane or dual lane, and additional features include: rework stations, single/dual/triple reject, return belt for re-inspection of reworked pieces. The technology is robust, reliable, and very well proven for demanding 24/7 applications worldwide.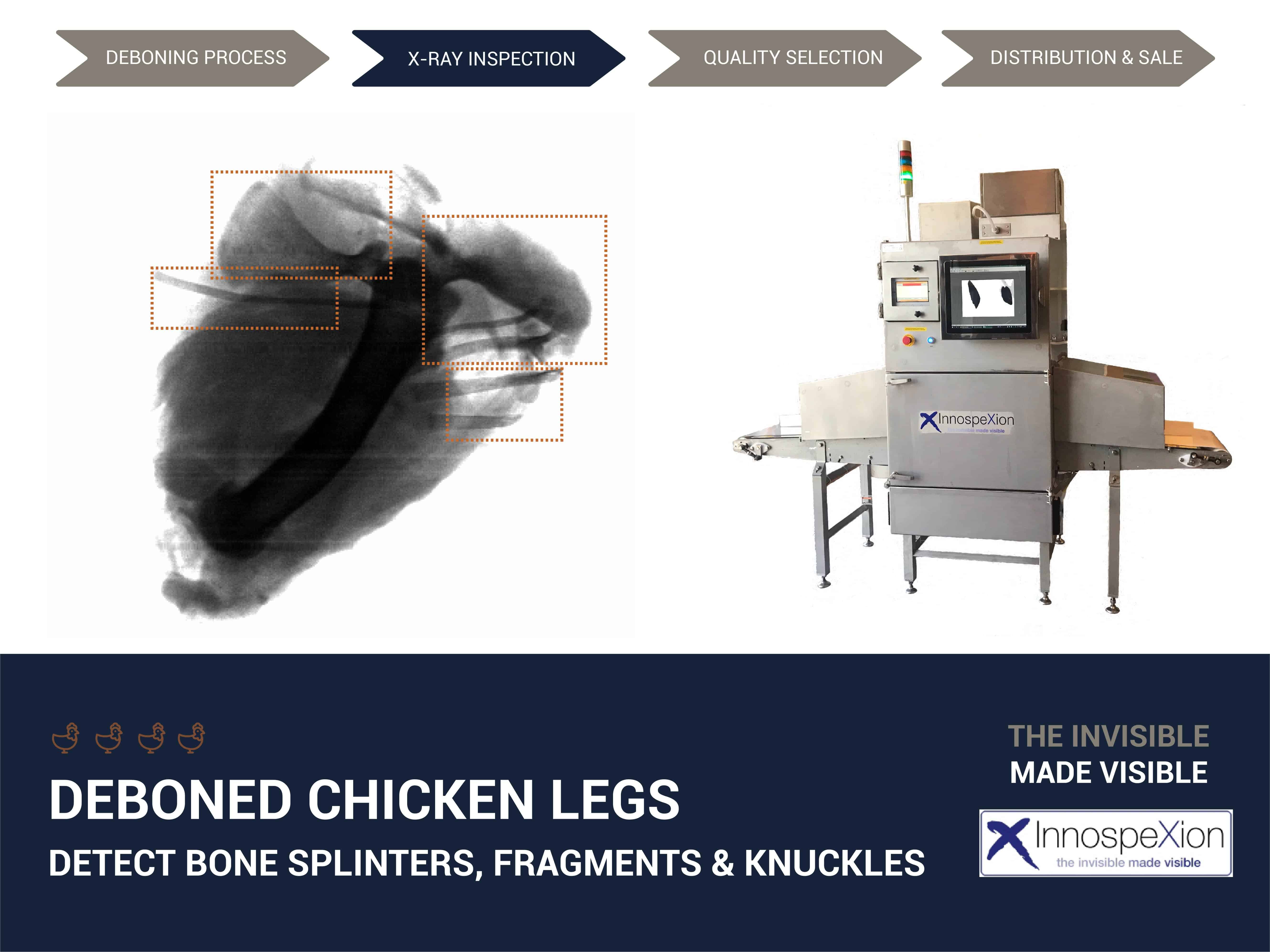 Interested in finding out more information about our low-energy X-ray systems for chicken bone detection?