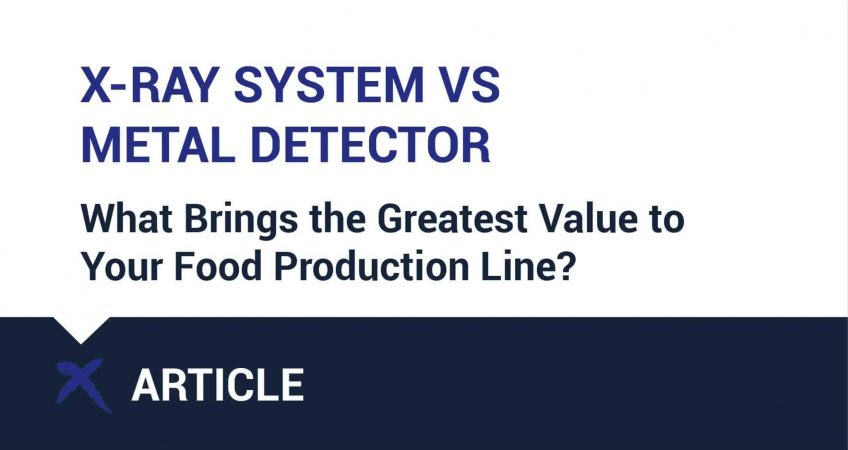 X-rays or Metal Detector ? What Brings the Greatest Value to Your Food Production Line
ENSURE FOOD SAFETY AND QUALITY BY COMPLYING TO HACCP PRINCIPLES
What type of inspection system should you choose for food inspection? X-rays or Metal Detectors?
The main purpose of an inspection system is to ensure food safety & quality. Complying with the principles of Hazard Analysis and Critical Control Points (HACCP) will ensure that your production and processing line respect the rules and standards necessary for food safety and quality assurance. HACCP is a systematic assessment of which biological, chemical and physical hazards are most likely to affect the quality and safety of the food product you are producing or processing.
As a food producer, processor, plant manager or quality assurance specialist you will inevitably have to deal with the dilemma of which safety and quality inspection system should you choose for your production line. The criteria for selecting a specific inspection technology will be further discussed in detail.
HAZARD ANALYSIS: PHYSICAL CONTAMINATION OCCURRENCE
Both X-rays and Metal Detectors are tools for detecting contamination with physical hazards. Completing a hazard analysis should provide an overview on the occurrence level of different physical contaminants in your production line. Which physical contaminants represent the biggest risk and occur the most? Is it metal? Perhaps glass, stones, rubber or plastic?  Having this overview, and by looking at the following chart, it will be easy to determine if an X-ray system or a Metal Detector will be able to detect your most common physical contaminants.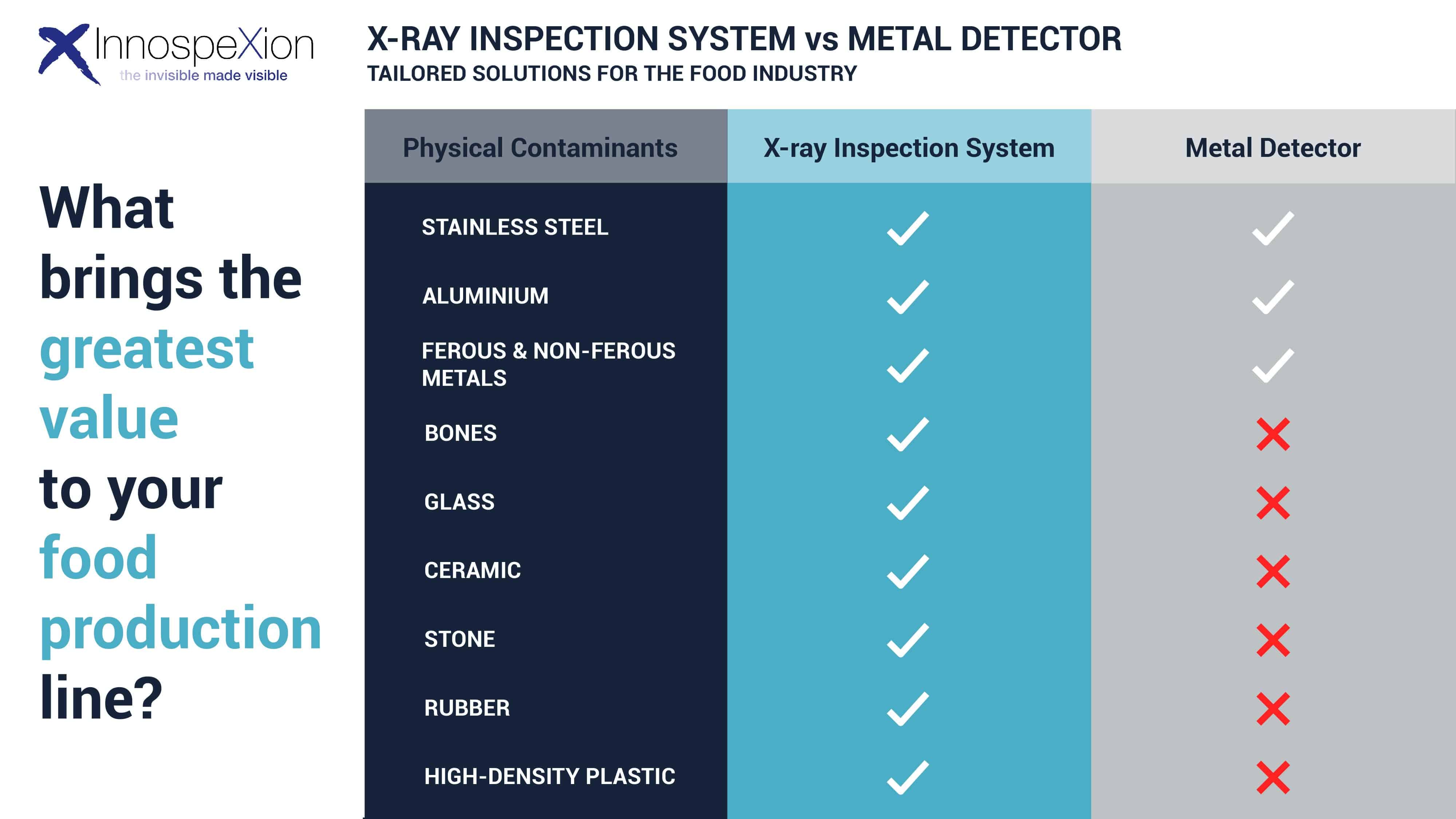 PACKAGING MATERIAL: PACKAGING CAN BECOME A HAZARD ITSELF
What type of packaging material are you using ? Perhaps the hazard analysis concludes that metal is the most common physical contaminant, but what about the packaging of your product? If the product is first inspected for metal contamination and after it goes through the packaging process, being packed in glass jars for example, this is also a very important aspect to consider. In case of packaging defects, for instance glass fragments present in the jar before filling it up, or resulted from breakage, the product will be contaminated with glass.
Will the chosen inspection system be able to detect that as well? This applies to any other types of packaging, so yes, packaging itself can become a physical hazard!
PRODUCT CHARACTERISTICS AND COMPOSITION
Volume & inspection flow: If you need to inspect multiple food products at the same time, it is important to know that metal detectors work best when they run one product at a time, while X-ray systems can inspect multiple items simultaneously. 
Composition: Generally, wet products and salty products don't work well with metal detectors since this type of machines are conductive. That is why, for example if you are a  meat processor, inspecting poultry or fish products (both fresh and frozen), X-ray systems will be the best fit. 
Additional benefits: An X-ray system can perform certain tasks that a metal detector is not able to perform, such as: Assess packaging integrity; Detect missing product in a package; Count items; Determine product mass based on density.