COATING & PIPES -
X-RAY INSPECTION
Pipe inspection: defect detection, corrosion detection, conformity assessment by X-ray imaging and quantification
X-ray technology has been used for years for coating & pipes X-ray inspection, and process & product control of pipes. Our new and innovative X-ray systems push thecoating & pipes X-ray inspection level to the real need – to detect what is critical for process & product quality inspection.
On- and offline pipe inspection: InnospeXion offers systems targeted for on-line inspection of pipe structural conformity and systems for non-destructive inspection and maintenance. We offer systems capable of measuring dimensions of different layers and systems for corrosion assessment under insulation, including systems for production control of e.g. flexible risers, for reinforced polymer pipes, for carbon fiber reinforced polyester structures, and many others.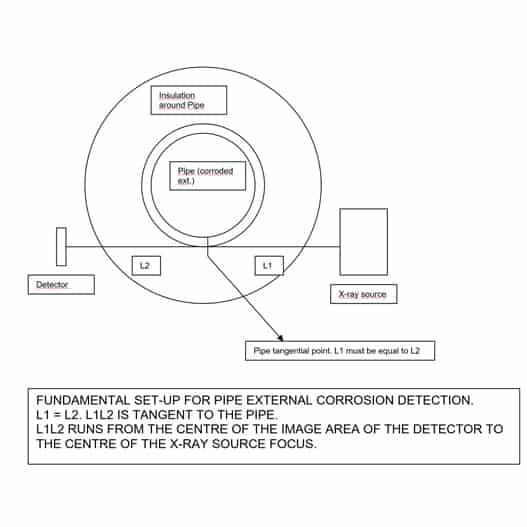 THE VALUE OF LOW-ENERGY X-RAY TECHNOLOGY:
reducing loss and making best use of raw materials

better product classification and a better product price

avoiding customer complaints

a robust, reliable, and safe inspection technology

hygienic design guidelines
This new X-ray technology has applications for online application in polymer manufacturing, as well as maintenance and inspection operations.
OBJECTIVE
External corrosion on isolated steel pipes makes a potential cause of leak that can have severe economic and environmental consequences. Isolated steel pipes are used in very big parts of the industrial sector, and preventive inspection of the pipes is an important and expensive maintenance activity. The inspection is today performed by removing the outer shield, removing insulation, and visual inspection. This method is extremely time-consuming, destructive and expensive.
Recent X-ray technology development has led to new detectors, with high spatial resolution, ultra-high sensitivity, low weight, and an ultra-compact design. The detectors can be used for online, fast, effective, safe and affordable inspection. Of special interest for the pipe corrosion inspection is the new CdTe-CMOS technology. With this, the high sensitivity results in the possibility for a very fast scanning process, at low X-ray energy. This implies highly limited radiation protection precautions.
This new technology has applications for online application in polymer manufacturing, as well as maintenance and inspection operations.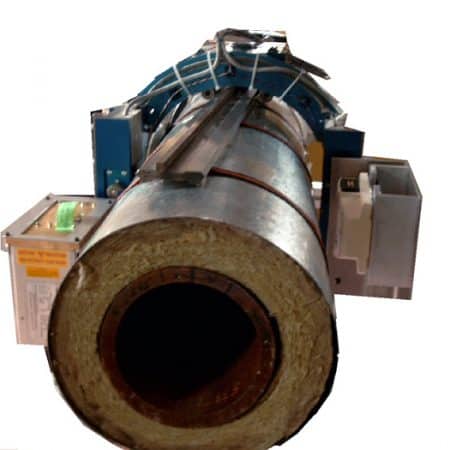 SOLUTION
The equipment for corrosion depth measurement is intended for continuous, remote-controlled operation on isolated pipes. The equipment is based on the tangential imaging method, where the arrangement is able to rotate continuously or gradually around the pipe, simultaneously with a scanning in the longitudinal direction of the pipe.
The X-ray source is mounted on the one side of the pipe, and the detector on the other. The equipment is placed on a robot, either a dedicated pipe crawler or a more simple C-curved based solution. Because the detector allows real-time imaging, a dynamic imaging process can be achieved if the X-ray source-detector arrangement is moved relative to the surface of the pipe, either by a linear scanning or rotation.
The image detector takes images for every step-interval that matches a distance of 50 mm. The time for moving and image gathering is about 2 seconds. It means that a scanning of a pipe with for example 4 profile lines (90 degrees between) can be made in 1-3 minutes per meter of pipe, for a skilled operator. Compared to earlier, this gives a time saving of a factor 10-30.
For production control, InnospeXion provides systems for e.g. polymer thickness measurement of flexible risers, operating at up to 10 m/min, with a scanning resolution down to 25 microns. The same technology finds applications e.g. for polymeric pipe manufacturing.
COATING & PIPES
X-RAY INSPECTION
ADDITIONAL READING