Industries » Confectionery
CONFECTIONERY X-RAY INSPECTION -
CHOCOLATE, CANDY & SWEETS QUALITY CONTROL
Confectionery X-ray inspection quality is advantageous due to the ability to detect non-conforming production that may compromise automatic
packaging or may pose quality issues of
the product itself (e.g. layer thickness
deviation, filling imperfections,
form/shape deviation, etc).
X-ray systems are also ideal for inspection of the packaged products and the detection inside the parcel of a variety of defects, including foreign objects.
THE VALUE OF LW X-RAY TECHNOLOGY:
reducing loss and making best use of raw materials

better product classification and a better product price

avoiding customer complaints

a robust, reliable, and safe inspection technology

hygienic design guidelines
Tailored confectionery X-ray inspection systems that can offer the
possibility of inspection across the entire production conveyor width are a requirement to improve the yield.
OBJECTIVE
The low energy X-ray technology is particularly suitable for inspection of unpackaged and packaged products of small thickness and/or low density (low atomic number composition), such as chocolate and candy. For the packaged products, a great advantage is the ability to check not only the conformity of the content but also the integrity of the packaging (sealing, e.g.), as well as positioning of product(s) inside the package.
Detection of plastic pieces from the molds constitutes a major concern since these foreign objects may be elongated and sharp, and therefore constitute a risk for consumers health.
Detection of plastic pieces from the molds is difficult as long as the plastics used are lighter than the chocolate itself, and as lower density fillings (such as nuts) are present. However, the plastic pieces from molds are commonly non-rounded, and they are distinct in the low-energy X-ray image.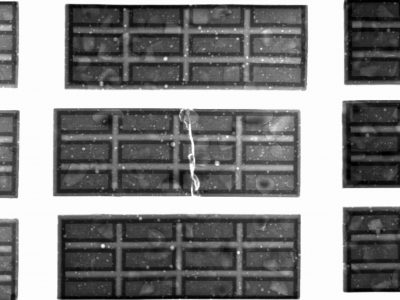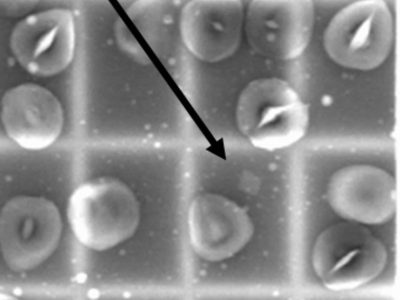 SOLUTION
InnospeXion has delivered and installed a large number of systems for online and at-line chocolate and candy inspection, based on the unique low energy X-ray technology. The systems supplied cover single-lane systems at 220 mm conveyor width, up to large systems with 1600 mm conveyor width. The unique sensitivity that allows the assessment of both packaging irregularities and non-conforming product, combined with a 0.1 mm resolution, makes the InnospeXion systems very unique, with second-to-none image quality.
Tailored image analysis routines and advanced PLC control makes the systems easily integrated to complex manufacturing lines, enabling complex classification and sorting, with multiple I/O possibilities at line speeds up to 30 m/min. A higher line speed is possible, however at reduced image resolution.
Note also that low energy X-rays stipulate much smaller radiation levels are intrinsically safer than conventional X-ray systems. They use less power and do not include any lead. Hygienic design requirements can be accommodated for, including water jet cleaning. Very importantly, in most applications, lead curtains may be avoided, hence minimizing contamination risks.