FOOD PACKAGING INSPECTION
Automatic detection and rejection of sealing imperfections, seal contamination, food packaging integrity, and package content conformity
An efficient food packaging inspection method is necessary for automatically identifying packaging problems or irregularities. For example,  faulty packaging may be caused by a number of factors, including sealing defects due to the product, damage to the plastic cup, reels getting out of alignment, faulty materials, failure in processes, etc.
The problem is that such defects often are discovered only upon final handling. This leads to significant waste, loss of revenue, at best. At worst, the products reach the retailer shop, and ultimately the end user. This leads to callbacks, to potential accidents, and complaints that must be handled.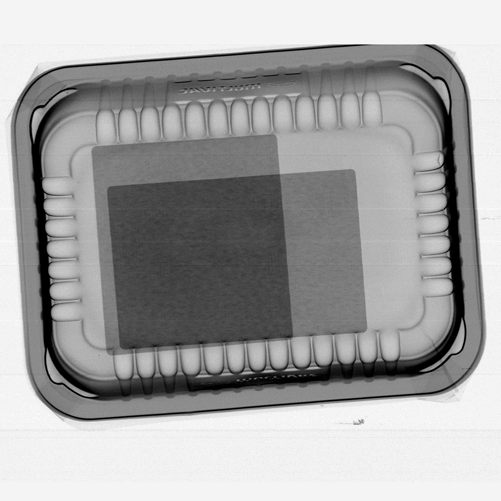 THE VALUE OF LOW-ENERGY X-RAY TECHNOLOGY:
The usage of X-rays with a very low energy (15-20 kV) in on-line applications facilitates imaging of very small composition, density and/or thickness differences.
This is the fundamental basis for making it possible to inspect and detect in real-time seal imperfections and leakers in e.g. plastic pouches, plastic cans with plastic or aluminum foil, and many other packaging types. Deviations in the seal thickness down to fractions of a micron can thus be detected and the object rejected, at production speed up to 180 units per minute.
OUR UNIQUE HYMCIS SYSTEM FACILITATES ONLINE, AUTOMATIC AND REAL-TIME ASSESMENT
WHILE DETERMINING:
if the aluminum jar/can/pouch is

undamaged

if the plastic/aluminum

foil is correctly placed

within the

acceptance seal zone

if the

seal zone conforms to the defined area

for the welding

if the plastic/aluminum foil is free of

folds and other similar defects

if  there is

no product lying in the seal zone

if there is product lying

outside

the seal zone

if there is

no contamination of the product

if the

right amount of product

is filled into the plastic/aluminum jar/can or pouch

if the

distribution of the product

within the jar/can/pouch is homogeneous

if the

density of the product

corresponds to acceptance criteria

if the

homogeneity of the product

meets the acceptance criteria
FOOD APPLICATION EXAMPLES
The InnospeXion low-energy technology has numerous X-ray application areas.
Read more about our food packaging integrity application examples: