OIL & PETROL
InnospeXion supplies unique, tailored, and beyond the state of the art X-ray based solutions for off-shore research, primarily in two different fields: (1) systems for advanced core flow analysis (reservoir studies) and (2) systems for high speed flow visualization and monitoring in large scale pipe flow models.
The solutions involve the most sensitive and fastest technology in order to quantify details invisible by other (X-ray) technologies. Our customers are world leading petroleum research institutions and the results obtained with our systems have important economic and environmental benefits.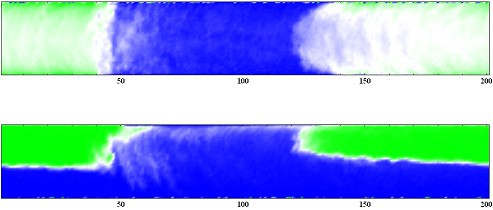 MAIN FEATURES
Imaging AND flow measurement
Proven, robust, fast technology
Tailored to R&D specs
Multi-spectral imaging
0.1 mm resolution limit
The InnospeXion technology finds applications for core flow analysis, and for high-speed flow imaging in large pipe spool test rigs. In both cases, the objective is Three Phase Flow Quantification, in R&D laboratories and full-scale test rigs.
The X-ray technology suitable for oil & petrol reservoir modeling as well as for exploration research must provide a high imaging speed, a very high contrast to discriminate the constituents, and a high resolution. Climate control of the entire system is needed in order to cope with high (120 deg C) oven temperatures in the lab, and with rough weather conditions in outdoor spool rig applications.
The systems are provided with local and/or remote control, and with data acquisition and processing software in agreement with customers specifications. Initial FAT is accomplished at InnospeXion premises, followed by SAT following the on-site installation. APEX and other conformity requirements may be implemented according to request.
APPLICATION AREAS
InnospeXion is a developer and producer of advanced imaging and measurement systems for three-phase flow measurement and modeling of rock slabs or drill core samples for petroleum research. The technologies are based on further development of our X-ray technology used in 24/7 applications in the food and continuous process control. They are therefore characterized by being robust, with fast scanning speed, effective in the quantification task, and competitively priced.
Thanks to the InnospeXion dedication to continuous technology development, the solutions also involves beyond the state of the art technology, which can bring further quantification possibilities for reservoir studies and modeling. For example, the use of multispectral imaging detectors brings a much higher precision of flow characterization, at pixel level.
X-ray systems used for high-speed flow quantification must have a high imaging speed, a very high contrast to discriminate the constituents, and a high resolution. InnospeXion has worked for many years with technologies that meet these demands and implemented this into robust, reliable and cost-effective inspection systems for a variety of applications. This expertise is the basis for our ability to provide tailored, beyond the state of the art solutions, that works. Whether for traditional or three dimensional (CT) imaging, we can provide the solution
CASE STORY
We are currently working on a case story for this application, which will be with you shortly. In the meantime, please read our latest case story.