PHARMACEUTICAL PACKAGING INSPECTION
Packaging inspection in the pharmaceutical industry is one of the main applications for low-energy X-ray systems. Vision systems have previously gained wide acceptance for industrial quality control. The present X-ray detectors with speed of up to 300 images per second allow, together with faster computers, that X-ray data is usable for the control of processes in industrial production. The starting point is the quantification of information of the X-ray images.
The incorporation of PLC-based control in the X-ray systems enables a more complex and safe online quality control.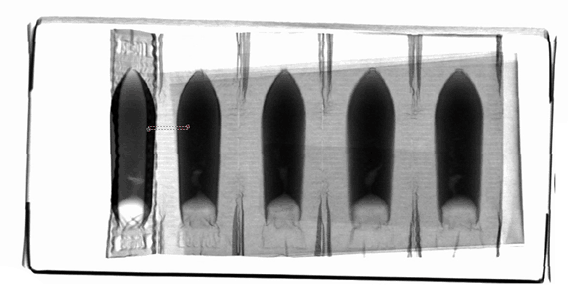 THE VALUE OF LOW-ENERGY X-RAY TECHNOLOGY:
The motivation for the use of low-energy X-ray systems is in this way not solely as a method for detection of foreign particles – but a more complete online quality control.
DEPENDING ON THE PRODUCT, SHAPE, SIZE, AND PACKAGING MATERIAL,
LOW-ENERGY X-RAYS CAN BE USED TO CONTROL AND MEASURE MANY DIFFERENT ASPECTS OF A PRODUCT:
Is the package intact?
Are labels placed correctly?
Is the package correctly closed? (is the plastic weld free of foreign particles etc.)
Is the product correctly placed in the package?
Are all units in the package?
Is the distance between packages/objects on the line correct?
Is the product correct and does it look "normal" (without flaws)?
Are there any foreign particles – and if so, where in the package?
Is there a correct amount of the product?
PHARMACEUTICAL APPLICATION EXAMPLES
The InnospeXion low-energy technology has numerous X-ray application areas.
Read more about our pharmaceutical packaging integrity application examples: