X-RAY INSPECTION SYSTEMS -
R&D PROJECTS
Continuous participation in innovative research & development projects is a strong focus, as this is where the magic happens. Explain why and the nature of the projects.
CIL2018
AIRPORT SECURITY – NEXTGEN SCANNER FOR CHECKED IN LUGGAGE
The growing security challenge is reinforced by the rising number of flight passengers. It often creates chaos and delays in the airports' baggage handling systems. But now, a solution to this problem may be on its way. A range of companies and research groups in the Danish X-ray industry have partnered up to develop more efficient screening systems for the security check of luggage in airports.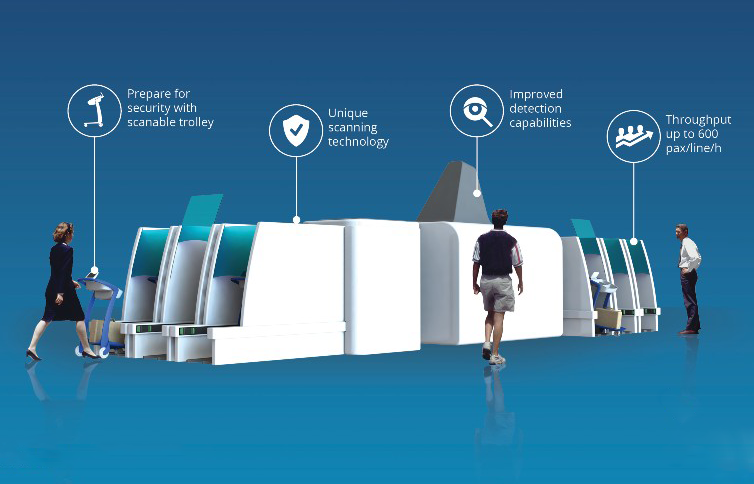 EASI
The Danish project aims to disrupt the current airport security process by developing an innovative integrated solution optimizing both the security and commercial experience for passengers in international airports.InnospeXion is the key partner in charge of designing and developing the intelligent X-ray scanning system with enhanced, proprietary ECAC security standard C3 certifiable X-ray technology that eliminates the need for passengers to unpack complex electronics and liquids when going through security. The throughput per scanner line will be 450 passengers or more per hour, double to triple that of existing tray based solutions.
TECHEESE
X-RAY CHEESE TOMOGRAPHY IMAGING SYSTEM
The ability to scan the cheese at regular intervals may facilitate that the cheese can be sold when a hole is developing critically near the surface. The objective has been therefore to develop, test and install an X-ray system which can determine when the cheese is ready for the market.